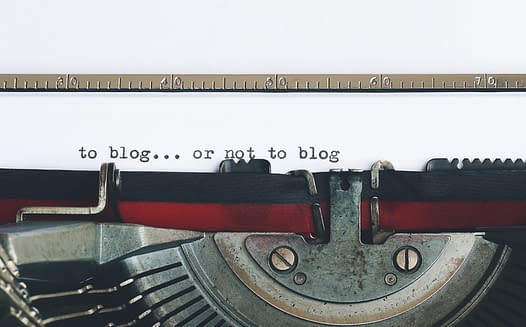 Why you should include a blog in your web design
If you're new to the world of digital marketing, you may not have yet considered incorporating a blog into your web design process.
Business blogging is a digital marketing strategy which can help you to increase your company's presence online by making use of simple SEO techniques. It has a whole host of benefits, including:
More visits to your website
Every time you write and publish a new blog post, it's one more page on a search engine. The more content you post, the more opportunity you'll have to appear in the results pages of users who are searching for key terms and phrases related to your industry. By appearing in more of these results pages – or SERPs as they're technically known – you're increasing your chances of driving more traffic to your site.
Social media content
Social media is another digital marketing technique which you may be using to increase your business' presence online.
If you're writing regular blog posts that are of interest to prospective customers, then you'll want to share them on your social media. Not only will you reach more prospects by sharing industry-relevant content, but you'll also be increasing your website traffic when people click on your blog. A win-win!
Building authority
The best way to build trust with prospective customers is to build a rapport before they enter the sales process. Blogging can do this.

The best type of blog is one that answers popular questions and search terms directly and effectively. If you are able to do this, you'll be showing prospective customers that you understand the industry you work in, making yourself an authority figure.

For example, as a retailer, if you're writing posts about your products, then customers will come to know you as a trusted source of knowledge in relation to the clothing, food or home decor they are looking for. This is the first step to building a good rapport, making them more likely to enter the sales process trusting your brand – hopefully leading to more generated sales!

Alternatively, if you operate as a B2B company, then publishing well-researched articles will help you to become an expert within your industry. Having a network of expert articles behind your brand, will encourage people to come to you for advice or insight.
If you're looking for an easy-to-use web design which allows you to set up and start blogging, then contact us today. We are passionate about designing attractive, responsive and practical websites that are bespoke to you. You can call us on 01454 806570 to find out more.
https://mliytvas89jk.i.optimole.com/hmSjSrI-GsALQ91l/w:auto/h:auto/q:75/https://www.realinternet.co.uk/wp-content/uploads/2020/06/a-vintage-typewriter-3601081-scaled.jpg
1590
2560
Andrew Reynolds
https://www.realinternet.co.uk/wp-content/uploads/2018/11/logo-2-1.png
Andrew Reynolds
2020-07-03 16:00:00
2020-06-28 09:07:04
To Blog or Not To Blog